Your next family luxury holiday destination
The magnificent and sublime island of Crete in Greece
Looking for your next family luxury holiday destination? Why not try the magnificent and sublime island of Crete in Greece. A place of choice for all families and friends aiming to take time off in a luxury villa with private swimming pools and luxury concierge services on demand like private chauffeur, homecare staff and private excursions.
Crete: a touristic and cultural destination
For your family and friends luxury holidays
Crete is a destination that provides great experiences with a large choice of activities.  The Aegean Sea is the main island's attraction with great sea views to enjoy from your villas located up the island's hills. Further down on the sandy beaches, you will enjoy sunbathing and spending time withing luxury beach bars while admiring the sea on one side and picturesque and wild landscapes on the other.
Crete, the jewel of the Mediterranean See is renowned worldwide for its incomparable natural beauty and cultural heritage. It is the largest island in Greece and is the fifth largest in the Mediterranean. The island cultural richness is breathtaking with its millennia-old past history. The island offers museums and galleries that have rich collections of artworks, pottery, and other ancient Cretan artifacts. The Historical and Folklore Museum of Rethymno and the Chania Archaeological Museum are places to be visited. Places you will be able to visit thanks to organized excursions where local guides will meet you at your luxury villas.
For hiking lovers, multiple natural sites are to be discovered like The Samaria Gorge, located in the White Mountains in western Crete. It is one of the most spectacular natural sites in Europe. You will be able to explore this fascinating gorge on foot and admire breathtaking landscapes during on demand private excursions that will take you from your rental villas to all the exceptional natural hiking points of interests of the island.
In cities like Heraklion, Chania, Souda and Rethymno, you will enjoy easy-going days and nights out amongst locals in bars and restaurants of these cities. Taste The traditional Cretan cuisine, with dishes such as dakos, Greek salad, dolmades, and the famous raki that delight even the most discerning palates. Discover also the Cretan olives – often considered the best in the world – feta cheese, and local honey that are also top-notch culinary specialties. Our guide of Cretan local gastronomy will help you make your way through the local dishes and choose which ones taste first.
Luxury Accommodations in Crete
A large choice of holiday villa rentals in Crete
RL Consulting is a team of experts specialized in renting luxury villas for holidays and all types of stays in Crete. With a large choice of luxury villas at your disposal, you will have the possibility to choose the best accommodation that suits your needs.
Villas with private swimming pools, breathtaking sea views, luxury outside areas and comfortable luxury bedrooms will be the key of the success of your holidays in Crete. Thanks to our beautiful accommodations all around Crete, you will have access to personalized luxury services in Crete with assistance and logistical support for a high-end stay on the island.
Assistance provided by our experts and their local network with Gourmet and conciergerie services, leisure and adventure activities organized for you, wellness and relaxation activities, cultural and excursions services, home and household staff and remote work assistance. All type of assistance needed to spend luxury holidays in Crete.
Our luxury accommodations are located near cities like Chania, Xirosterni, Almyrida or Apokronos and offer luxury accommodation comfort and services like master bedrooms, en-suite bedrooms, design pools, outside kitchens, rooftops, fitness centers and home cinema installations.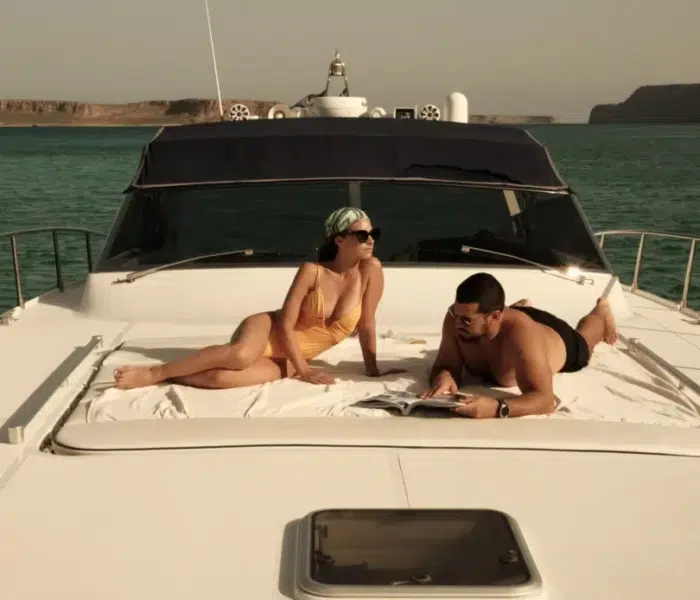 Luxury villas in Crete for family and friend's holidays
Discover our large choice of holiday villa rentals
RL Consultancy, experts in luxury villa rentals, would like you to check these four luxury villas available to rent over the summer and all over the year.
Villa Kyma is located on the beautiful Akrotiri peninsula in Crete, this villa can accommodate up to 10 people and offers direct access to the sea from the rocky coast. The villa provides great facilities that will make you enjoy sea view in nearly every part of the house.
This accommodation provides 280 m² on 2 floors with a sea-facing master bedroom, located at pool level, an en-suite bathroom, and other bedrooms like a master bedroom facing the sea. The villa has a living room facing the sea with open kitchen and access to the main terrace while an access is also available to the upper floor terrace.
JK-Two is the ideal Greek holiday villa where share time with family, friends, and business relationships. A 5-star house near Chania that has the standing of a luxury hotel with its private suites and its wide living areas inside and outside the villa.
The house is built in a such way that the main building is separated from the 5 suites with inside and outside corridors. A unique contemporary architecture for a house that you will enjoy evry inch of it. The main building offers large spaces inside and outside with 3 bedrooms. The luxury house provides also two bedrooms with their rocky exotic planted patios. You will find also a fully equipped tv room, a fitness room, and a private massage room.
The villa has a 20 meters long heated private swimming pool in – or next to which- you will spend unforgettable moments chilling with family and friends.
The luxury villa Villa Elements is the perfect luxury accommodation for holidays in Greece. The Chania Villa covers 540 m2, divided in three levels, offering privacy, independence and comfort to all guests. Elements Villa can accommodate 16 guests in its 8 bedrooms. Villa Elements stands in a private land of 5.000 m2, offering total privacy as it is fully fenced. Furthermore, the property offers 2 different private entrances and 2 different parking areas for up to 5 cars.
The house has 3 floors well organized with luxury bedrooms, a fully equipped kitchen, a fitness room and a playroom. Outside, you will find a 110 m2 heated swimming pool with a pool terrace equipped with double day beds, side tables, parasols and an outdoor shower.
Read about our other luxury accommodations in Crete with villas like Villa Logari, villa Cavo Dago, Almond villa and Villa Grove. Villa rentals where you can have on demand personalized services and private concierge assistance that will help your luxury holidays in Crete be the best ever taken in Greece.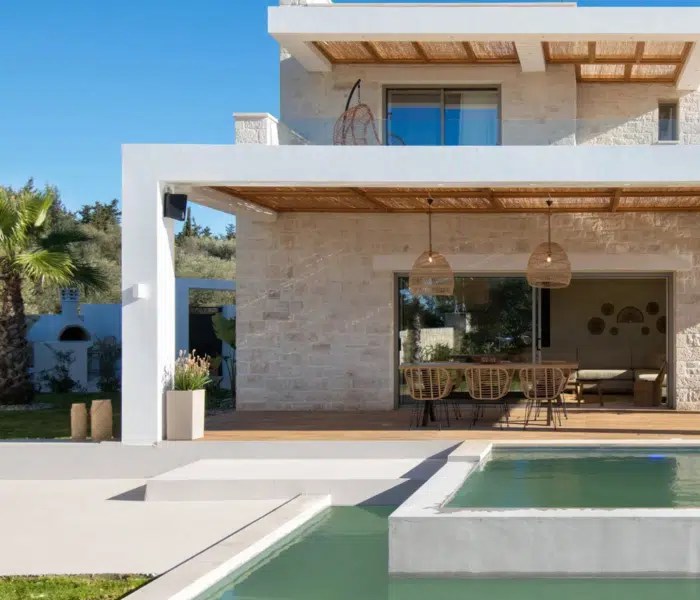 Send us a Message
Contact us