Description of the Villa
an exceptional and unforgettable experience in Crete
Surrounded by a green hillside in an exclusive neighborhood of Chania, Villa Cavo Dago offers sweeping views of Chania city and the Aegean Sea. The 410 square meter interior offers resort-like amenities, including a fully equipped private spa, fitness center, three kitchens, two lounges and a game room.  An in-house housekeeping ensure that every desire is met, and the mouthwatering flavors of local cuisine are embraced. Floor-to-ceiling glass envelops this 4-level property with sophisticated simplicity and elegance. Its two large infinity pools take pride of place on the terrace, amplifying views of the nearby city and seascape.
Situated on a hilltop in an exclusive area of Chania, Villa Cavo Dago offers breathtaking panoramic views of the city and Chania Bay. Beautiful outdoor living spaces blend into the lush forest that surrounds the villa. The interior space, with its clean lines and minimalist design, gets most of its color from the panoramic windows that surround the house, capturing the exterior landscape of the sea and the city. A villa of exceptional quality and design, Cavo Dago allows for both social gatherings and personal space with choices of seating areas inside and outside the home and a range of activities to keep the whole family occupied. With two private pools, a private spa, gym, Jacuzzi, mid-week service and concierge service, Cavo Dago embodies the ultimate villa experience. At Cavo Dago, every detail has been taken care of so that our guests need only sit back, relax, and enjoy an exceptional and unforgettable experience.
Villa Cavo Dago characteristics
Sea view, luxury villa
6 Bedrooms
Sleeps 12
2 Pools
7 Bathrooms
1 WC
410m2 Interior surface
1600m2 Exterior surface
2021 Year of construction
Layout
Large spaces with minimalist design
Cavo Dago is divided into four exquisitely designed levels, covering 410 square meters in total and accommodating 12 people in its 6 adjoining bedrooms. An elevator is also available to access each level. The sleek, modern architecture and sophisticated lines offer a contemporary space with superior furnishings and appliances. Spacious spaces with minimalist design offer chic living that extends to the outdoor space. Floor-to-ceiling glass panels allow the unparalleled view to dictate the interior space while the time of day controls the color tone and atmosphere from sunrise to sunset. Each day brings a new, slightly altered perspective to this dazzling view.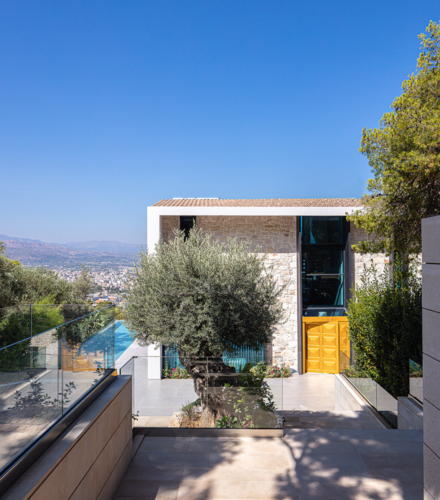 Interior of the villa
Lower Floor
The lower level of Cavo Dago opens directly into a beautiful open space, created for your utmost relaxation. This area, carefully designed for entertainment, recreation, and relaxation, will appeal to anyone looking for a moment of self-care and wellness during their vacation. The private spa area with wooden sauna and steam room will soothe aching muscles and the gym, equipped with a treadmill, static bike, weight benches and exercise mats, will keep you in perfect health.
Children will be delighted to have their own play area. The handmade sofa is big enough for the whole family and wraps around the 75″ Smart TV with PlayStation 5. A coffee table with ottoman seating creates the perfect spot for a game of chess or cards, and a second sitting area with two large sofas in its own corner, offers independent space without having to escape the view.
Two additional en-suite bedrooms are located on this level and are equipped with large double beds (1.80 x 2.00), air conditioning, open closets, and en-suite bathrooms. A large patio door provides direct access to the grassy area by the pool.
A second fully equipped kitchen area.
Bathroom with shower next to the spa area.
Laundry room with washing machine and dryer.
A small additional room for staff use, equipped with a single bed.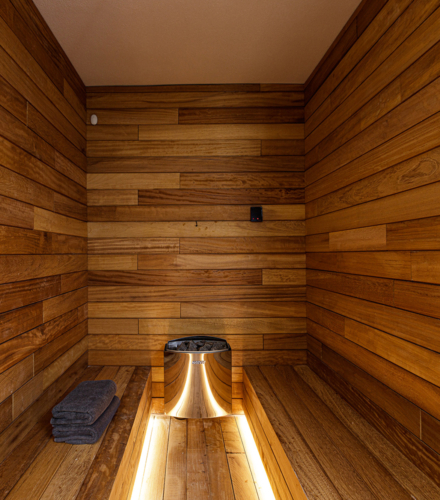 First and Second Floors of the villa
First floor
Entering through its large gold door, Cavo Dago opens to a large open living space. An opulent and spacious living room surrounds the 75-inch smart TV with satellite and Netflix. An elegant dining table for 12 takes pride of place, and the professional kitchen will meet the demands of even the most experienced chefs. Natural materials blend with modern design to create a soothing atmosphere that is both luxurious and comfortable, with each space designed to open to the terrace and outdoor living spaces to embrace the outdoor environment. Floor-to-ceiling glass doors offer incredible views of the city and seascape below and open onto a spacious veranda. Full of light and air, the living space is a delight for social gatherings.
A toilet is also available, for shared use.
First floor
Floating stairs lead to the second floor. Glass panels, a theme throughout the house, are elevated on the second floor by the glass floor panel that speaks to the living space below. On either side of the common landing with balcony are two bedrooms. Each room is equipped with a sumptuous Queen bed (1.80 x 2.00), an open wardrobe and a 42″ smart TV. The en-suite bathroom is equipped with a shower stall with rain shower. While one of the bedrooms has large glass doors that slide open to let the outside in, the other has the privilege of having its own private balcony with a sitting area, offering an exceptional private space overlooking the pool and the magnificent views of the sea and coastline beyond.
Second Floor
Continuing to the second floor, we discover another landing with a leather sofa positioned to view the panoramic view. The two modern en-suite bedrooms on this level take full advantage of their privacy with double Queen size beds (1.80 X 2.00) directly overlooking the sea and the amazing glass bathrooms, which spoil you with their view. Both rooms are equipped with a 42-inch smart TV, open closet and are furnished to a high design standard.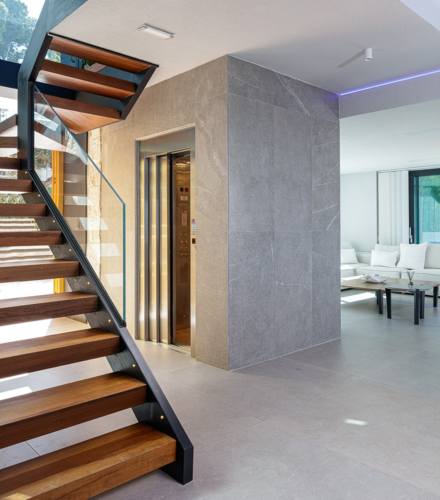 Outside of the villa
A true work of art
If the interior of Villa Cavo Dago delights, the exterior will realize its full potential, evoking the spirit and cosmopolitan charm of Crete. The entire outdoor space is fully fenced, offering total privacy to our guests, while covering 1,600 m² and offering numerous amenities. With the villa spread over 4 levels, the cascading outdoor landscape allows our guests to share both social moments and personal quiet time, with places to relax and unwind independently.  With a state-of-the-art pool for health and a second for relaxation, a Jacuzzi, seating, and dining areas arranged around the property, Cavo Dago is a true work of art.
The outdoor area on the lower floor
A private pool of 80 m2 (0.60-1.60 m. deep) with effortless access, equipped with "floating" wooden decks, with 8 double daybeds. The pool can be heated upon prior request, for an additional fee of 60€ per day (please note that the pool heating can be used upon prior request for the entire stay and requires at least one week's notice).
A 6-seat hot tub to relieve stress.
Lounge area next to the hot tub.
Lush lawn with outdoor shower and stairs to the first floor.
Outdoor space on the first floor
A 50 m2 private pool (0.60-1.60 m deep) equipped with a high-tech swimming jet for exercise or training if needed.
A bar area is located just beyond the kitchen, with high stools that are the perfect place to enjoy a refreshing drink under the stars.
An outdoor sofa area built into the split-level floor.
Professional outdoor kitchen with hot plate, grill, refrigerator, dishwasher and sink.
An additional relaxation area with a sofa and outdoor dining area behind the pool, ideal for outdoor dining and offering a different perspective of this incredible villa.
The villa also has :
A private entrance with a gate and it is fully fenced, offering total privacy to our guests.
Private parking for 3 cars inside the villa.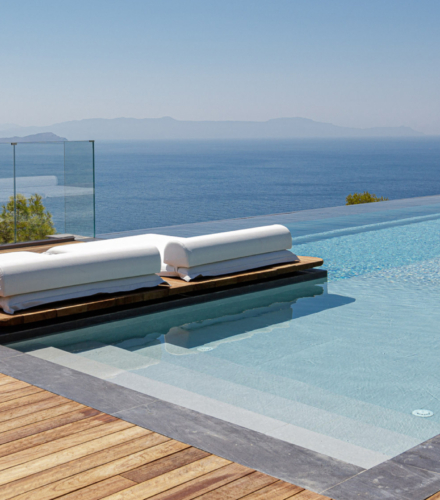 Private pool
Ideal Private Pools to exercise and relax in Crete
First pool
The 50m2 pool (depth 0.60-1.60m) with stair access is designed with the latest swimming jet system, which allows you to exercise in the pool. Relax at the end of the pool and enjoy a breathtaking view of the sea.
Pool type : Outdoor
Area : 50.00m2
Minimum depth : 0.60m
Maximum depth: 1.60m
Second heated infinity pool
The second heated infinity pool of 80 m² (depth of 0.60 to 1.60 m), which can be reached effortlessly by steps, is located on the main solarium. With its floating loungers immersed in the pool, it is the ultimate in relaxation and luxury. The pool has a breathtaking view of the sea, the forest, the bay of Chania and the city.
Type of pool : Outdoor
Surface : 80.00m2
Minimum depth : 0.60m
Maximum depth : 1.60m
Heated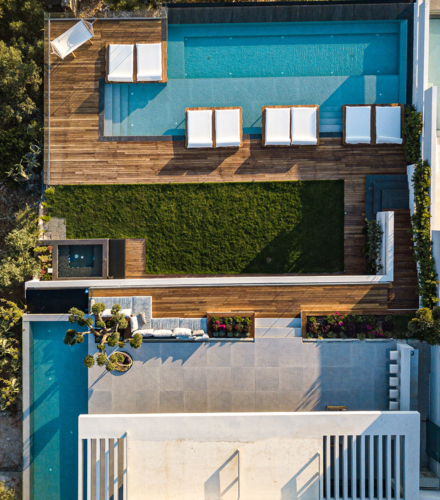 Interiors
Bedrooms
Master bedroom
The adjoining bedroom is located on the second floor. Minimalist in design, it features a Queen size bed (1.80 X 2.00), an open wardrobe and a 42-inch smart TV. Guests staying in the master bedroom enjoy a private balcony with seating, which is a great place to spend some quiet time.
Bedroom 2
The room is equipped with a Queen size bed (1.80 X 2.00), an open wardrobe and a 42″ smart TV. Sliding glass doors allow the magical view to enter the room. The en-suite bathroom will delight its occupants with views of the sea.
Bedroom 3
The en-suite bedroom is equipped with a Queen size bed (1.80 X 2.00), an open closet and a 42″ smart TV. The en-suite bathroom ensures that you never lose the magnificent view, with glass panels even in the bathroom walls.
Bedroom 4
The en-suite bedroom is equipped with a Queen size bed (1.80 X 2.00), an open closet and a 42″ smart TV. The en-suite bathroom with glass panel allows you to always have a great view.
Bedroom 5
The adjoining bedroom has a Queen size bed (1.80 X 2.00), an open closet and a 42″ smart TV. Patio doors lead directly to the pool for a morning swim.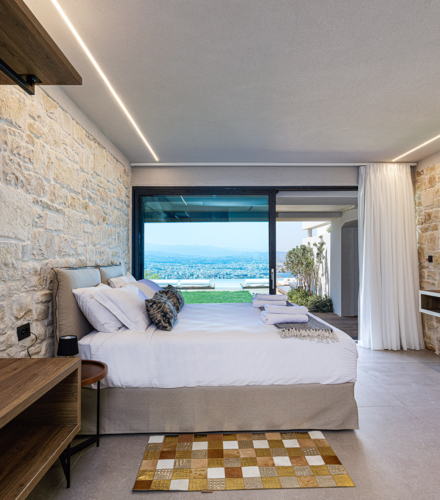 Living Room and Kitchen
Living room & dining areas
Living room
The main floor living room has a large squidgy corner sofa to sink into for a movie night. The 75-inch Smart TV with satellite and Netflix offers a large screen to make the most of any movie.
Dining areas
Two dining areas are available to our guests. The first is an outdoor dining room located on the first floor, next to the outdoor kitchen. With seating for 12 people, it offers an alternative location and environment for outdoor dining under the stars. It is a nice place to relax and dine next to the pool. It also has a comfortable seating area to enjoy cocktails.
The indoor dining room, which seats 12, is located on the first floor. Centrally located to make the most of the breathtaking view, the large glass panels can be fully opened to let the outside in. The twinkling lights of the city of Chania and the reflection of the moon on the sea will make your evenings unforgettable.
There are two fully equipped interior kitchens, both of which are equipped with the latest specialized appliances to ensure a relaxing dining experience.
Kitchen
Villa in Crete with three fully equipped kitchens
The kitchen on the lower floor is equipped with a gas cooktop, while the kitchen on the first floor is equipped with an electric cooktop.
Another kitchen is located outside on the first-floor terrace near the pool. The kitchen is a modern professional kitchen for a great outdoor kitchen with hot plate, grill, refrigerator, dishwasher, and sink.
Want to see more holyday villas in Crete? Check our pages about our other Crete villa rentals like Residence Almyra, Almond Villa, the Grove Villa and Villa Ammos.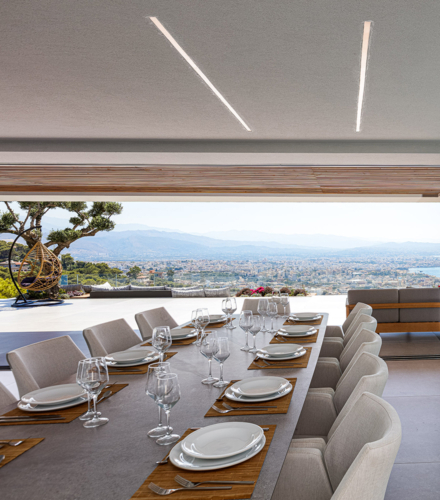 General
Facilities
Air conditioning

Washing machine

Hair dryer

Fitness room/equipment

Tumble dryer

Iron and ironing board

Towels available

Soaps

Satellite/cable TV

Stéréo

Games room

Dishes and utensils

Coffee maker

Dishwasher

Fridge / Freezer

Microwaves

Toaster

Kettle

Oven

Cooktop

Blender

Barbecue area

Parking for cars

Deck chairs

Heated pool

SPA / Sauna

Internet

Telephone
Prices
For booking
Price on request

Between €8 400
and €22 400
for 7 nights
between March and December
For more information do not hesitate to contact us.
– Minimum stay: 5 nights in April, May and October and 7 nights for the other months.
– Standard capacity (pax): 12
– Maximum capacity (pax): 12
– Security deposit: 2 000€
– Pool heating : 80€ per day (one of the two pools of the villa can be heated, it is located on the upper level)
– EOT: 1213794
Concerning the booking requests, don't hesitate to call or send us an email, everything is done on measure and we will be more than happy to advice and help you.
I'm interested
Contact Us