Luxury villa description
The Villa: experience Crete in a contemporary design villa
Live the Crete experience inside and outside this holiday villa near Chania and make the most of your stay in Greece thanks to its incredible view on the Aegean Sea and the Souda Bay. Not only you will have access to a unique landscape tinged with the wonderful blue of sea, but you are also guaranteed peaceful moments contemplating the surrounding nature.
A scenery you will want to share with family and friends! A possibility that might just happen since JK-Two is the ideal Greek holiday villa where share time with family, friends, and business relationships. A 5-star house (for 10 people and 2 babies – 2 baby beds) similar to a luxury hotel with its private suites and its wide living areas inside and outside the Crete Villa.
The house is built so to separate by inside and outside corridors the main house from the 5 suites. A perfect renting house for family and friends with the leisure areas detached from the bedrooms where you will be able to fall asleep in contemplation and to the tolling silence of the sheep's bells…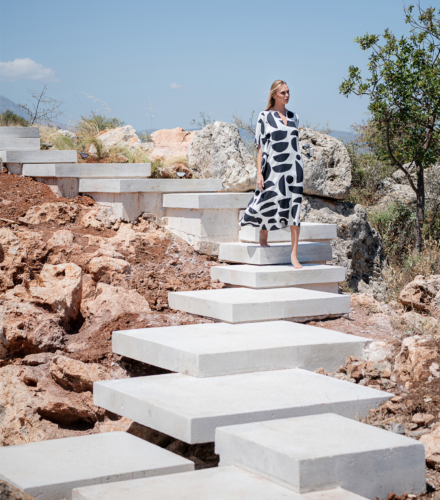 Interior of the villa
A unique contemporary architecture
JK-Two is a modern villa that was made and designed to let its guests enjoy the beauty of the island of Crete while being able to relax and spend peaceful holidays. At the same time, the luxury villa enables you to have family or friends gatherings thanks to the central building open spaces.
The Villa is organized with a central building from which are detached 5 suites accessible thanks to inside and outside corridors. Inside the house, you never loose track of the outside scenery which magnifies the house's design.
The main house with its living room and full equipped tailor-made kitchen has an outside and an inside table that seat 10 persons. The central building provides 3 rooms including a 60 square meters master bedroom from which you will have a bird's-eye-view on the Souda Bay and the surrounding Aegean sea. Taking a bath while contemplating Crete's exceptional landscapes is what the guests of this luxury villa will fight for!
No one will be left out in the central building since there are two other bedrooms with their rocky exotic planted patios. You will find also a fully equipped tv room, a fitness room, and a private massage room.  All the wooden furniture has been designed and tailor made for the holiday villa JK Two by some highly skilled Cretan craftsmen.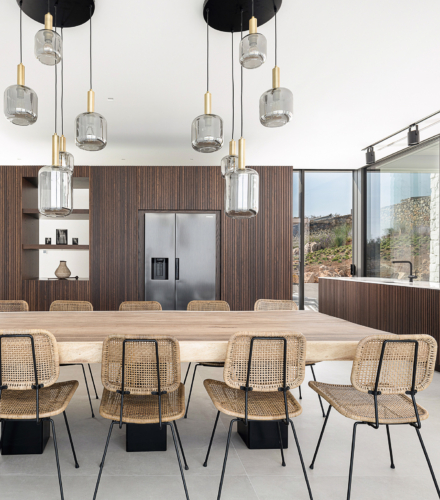 Outside
A luxury family villa where you will love living outside
You will access 5 suites alongside the central building either from the outside or inside corridors of the villa. Whatever path you take, you will get to your room and private space thanks to each suite's courtyard. A luxury that will allow each guests to have their private moments and their own Crete experience. The 5 meters high atrium will only reinforce the feeling of relaxation and peace of mind this house provides. A state of mind maintained by the 20 meters long heated private swimming pool in – or next to which- you will spend unforgettable moments chilling with family and friends.
Moments you will extend thanks to the outside terrace table or the outside fully equipped kitchen where your lively family or friends' meals will take on a new dimension. At night time, the villa JK-Two could well be the best spot of the surroundings where hang out and admire the exceptional open view on Souda Bay underneath the starlight night.
Fancy seeing more of Crete and having access to organized excursions or meals out in town ? Our personalised services and private concierge are exactly there to allow you leave the villa without worrying about organizing anything. We take care of everything thanks to our Adventure, Gourmet, Culture and Wellness packs.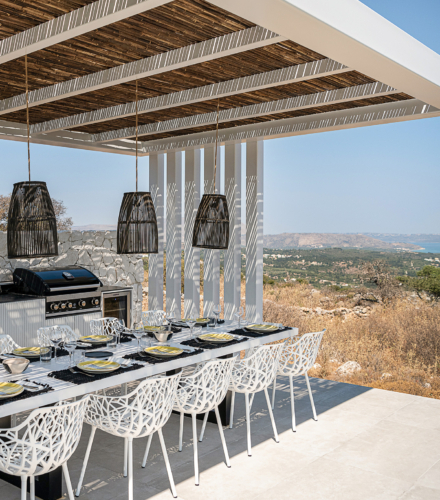 General
Facilities
Satellite TV / home cinema

Sound system

Sport

Spa and massage area

Heated pool

Deckchairs, umbrellas

Wi-Fi

Private parking

Bathroom products

Air conditioning

Hair dryer

Gas BBQ

Mosquito nets

Washing machine

Heating

Playground
The area
The Chania experience
The villa is a 35-minutes drive away from the Old Venetian Port of Chania. A city that provides great shopping experience with little shops of the most exclusive Greek designers. In the maze of the small streets of the old town you will find a wide variety of restaurants from the most traditional ones to the latest that do contemporary gastronomy.
The amazing prefecture of Chania offers you more than just the opportunity to relax under the Greek sun. With a very rich and extraordinary history and cultural heritage, you will find in Chania a great variety of monuments of exceptional cultural interest that are worth visiting during your stay. Monuments from the Byzantine period, the Venetian period, the Ottoman period as well as from the modern history are to be seen. Museums such as the Nautical Museum of Crete, the Archaeological Museum of Chania, the House of El. Venizelos, the war museum of Chania will help you explore the rich history of this blessed island.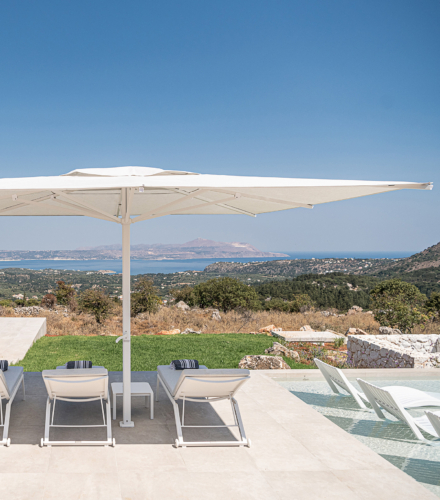 Private concierge services on

Request
General: Airport transfers, cook, babysitting, bar service, boat rental, butler, car rental, driver, security, waiter/waitress.
Amenities: Wine on arrival
Spa and Beauty: Body waxing, facials, hair styling, makeup, manicure and pedicure, massage.
Fitness and sports: Personal training, Pilates, swimming lessons, water sports, yoga, guide for mountain hiking, climbing, vineyard tours, paragliding.
On request for children: baby cots, sleeping cart, portable baby bed, potty, baby walker, chairs and tables.
For more information, read about our personalised services and private concierge and get a better overview of what we can do for your comfort and peace of mind during your stay in Crete.
You want to see more Crete luxury villas available for renting during your family holidays in Greece? Check our other luxury villas like, Villa Gardenia, Villa Kyma or the Grove Villa.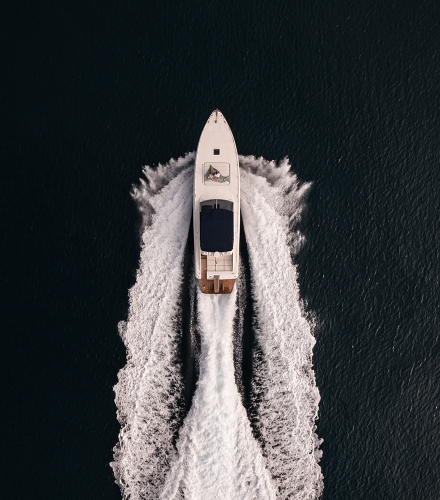 Prices
For booking
Price on request

Between €11 250
and €18 500
for 7 nights
between April and November
For more information do not hesitate to contact us.
Concerning the booking requests, don't hesitate to call or send us an email, everything is done on measure and we will be more than happy to advice and help you.
Minimum stay 7 nights.
Security deposit: 6 000€

I'm interested
Contact Us