Villa Alas Description
A Cretan luxury villa with private pool made for relaxation and contemplation
Cool, calm and sophisticated, this functional villa is enveloped in light and comfort. Crisp white walls and high ceilings create a style as timeless as the sparkling sea view.
This house reflects the personality and taste of those accustomed to the best in quality design, finishes and lifestyle. Whether you seek a family holiday home in Crete or a retreat villa with friends, this villa is an oasis of tranquility. Enjoy the convenience of nearby beaches, cafes, and restaurants, all while reveling in the privacy of your serene surroundings.
The luxury villa encompasses four spacious bedrooms divided in two storeys, four luxurious bathrooms and a sleek and stylish kitchen that flows through to the dining room and living room area.  A villa with beautiful surroundings, contemporary spacious rooms, luxurious furnishings and five-star service that makes it ideal for relaxation and an unforgettable holiday experience.
In a quiet location, just five minutes outside the coastal village of Marathi, and 900 meters from the sea, the villa offers panoramic, outstanding views over Marathi and Souda Bay, all the way across to the White Mountains in the Apokoronas region.
The house is an architectural expression in the Cretan landscape. The villa brings together both the uniqueness of a house with distinctive spaces while representing a welcoming and comfortable home with Cretan charm and authenticity.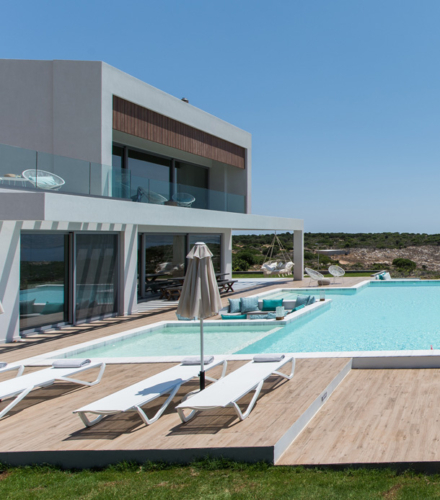 Interior and exterior of the luxury villa
A luxury Villa in Crete for holidays
On the ground floor, there are two bedrooms, one master bedroom with walk-in closet, ensuite bathroom and satellite tv and one room with closet, satellite tv and a bathroom right outside of it. All bedrooms have their private room terraces with sitting area and separately controlled A/C system. The first floor has two bedrooms. One with an ensuite bathroom, terrace, and satellite tv and one master bedroom with walk-in closet, en suite bathroom and satellite tv, ensuring residents have a private space where they can enjoy the uninterrupted view.
In the living room, there is a comfortable sofa, a 49inch 4k satellite TV and a playstation 4, a large dining table and a three-sided fireplace. The kitchen offers an 8-person island bench and is fully equipped and has all the necessary small electrical appliances. For added convenience, the basement house has a well-equipped gym with a treadmill and a fully functional bathroom.
Step outside to the meticulously designed outdoor space of Villa Alas, offering relaxation and breathtaking views. Take a dip in the 90sqm swimming pool, which includes a separate area for the little ones, as well as a built-in seating area. Unwind on the sun loungers or enjoy a meal at the outdoor dining table. Additionally, there's a terrace on a higher level featuring a fully equipped barbecue with a sink and another dining table, perfect for hosting memorable gatherings.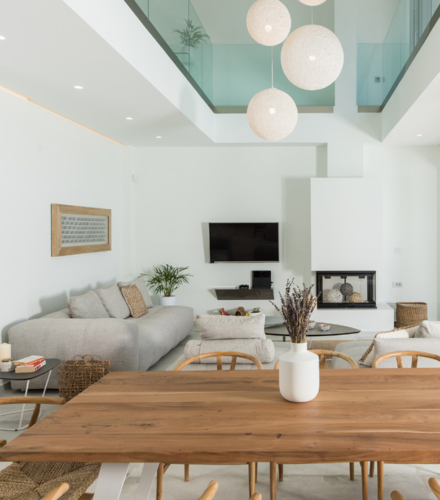 General
Facilities
Air conditioning - Heating

Free wifi internet access

Smart TV

Hairdryers

Bath and sun towels are provided

Nespresso coffee machine and regular coffee machine

Parking

Dishwasher

Infinity pool

Sunbathing area

Sea view

Garden table and chairs

BBQ

Music system

Washing machine

Alarm CCTV Security
Near to your holiday home
Marathi and Souda Bay, a timeless seaside Cretan village
Marathi is a small village located on the Akrotiri peninsula in Crete, Greece. It is situated only 17 kilometers from the city of Chania and is known for its beautiful beaches and scenic surroundings. Marathi is a popular destination for locals and tourists looking for a peaceful beachside getaway in Crete. From the Alas Villa or from the seaside, you will admire two beautiful beaches with fine sand and shallow calm water.
From the exquisite Alas Villa or the seaside, itself, you'll be captivated by the allure of two stunning beaches adorned with fine sands and gentle, crystal-clear waters. Shielded from the winds by their south-facing orientation, these beaches offer an idyllic escape. As you soak up the sun, relish the panoramic views of Drapanos Cape and the majestic White Mountains, creating a mesmerizing backdrop.
A mere 500 meters offshore lies Palia Souda, a small island accessible by a refreshing swim. On this island, a delightful pine forest awaits, while its western coast entices scuba diving enthusiasts with its dramatic cliffs.
Venture northward from the beach, and you'll encounter the ancient ruins of Minoa, a Roman town believed to be the former seaport city of Aptera. The archaeological site, also known as the Small Palace of Minos, unveils remnants of buildings, baths, and possibly an old harbor, military facilities, and a mansion.
Find out more about the rich cultural heritage of the island of Crete and venture off the beaten path of traditional tourism and discover the true essence of Crete
Marathi offers a plethora of water sports excursions, including boat rentals, stand-up paddleboarding, and kayaking. Embark on a sailing boat adventure to explore notable landmarks like Cape Drapano or the enchanting Isle of Karga.
Savor the gastronomic delights of Marathi at its numerous village and beachside restaurants, with four establishments directly overlooking the shore, serving delectable Cretan cuisine. For those seeking an unforgettable holiday experience in Crete, complemented by the luxury of a private villa rental, Marathi is the ideal destination.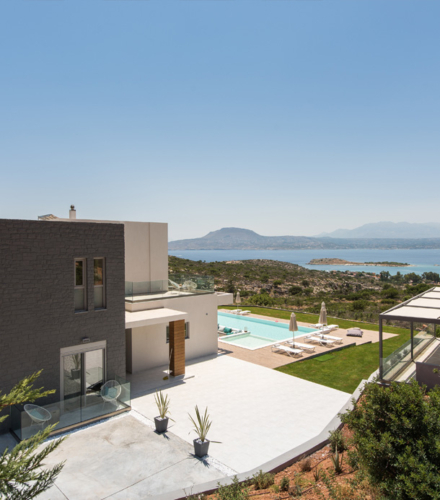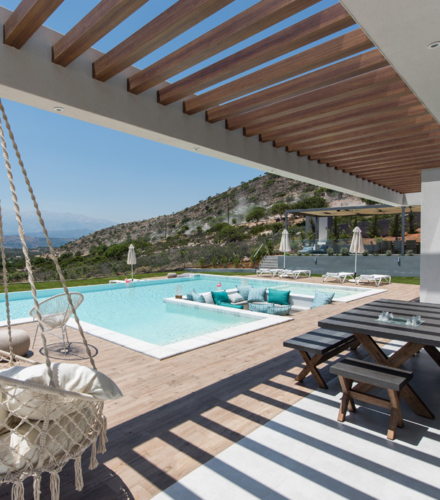 Prices
For booking
Price on request

Between €5 265,80
and €10 915,80
for 7 nights
between April and October
For more information do not hesitate to contact us.
Concerning the booking requests, don't hesitate to call or send us an email, everything is done on measure and we will be more than happy to advice and help you.
A deposit of 40% is required upon booking. Balance payment is required 6 weeks before Check-in. Security deposit of 1000 EUR. CONDITIONS. Villas maximum occupancy is 8 persons. There is no extra charge for Aircon, Wi-Fi, Beach towels, Sun beds, etc.
I'm interested
Contact us