Luxury villa description
The lush, bucolic setting of Akrotiri is the setting for Casa Scordilli
The villa Casa Scordilli welcomes visitors from around the world. This sumptuous and elegant property is situated on a vast plot of 11,500 square meters, surrounded by fruit, fig and olive trees. With a panoramic view of the bay of Souda (largest and deepest natural port in the mediterranean), it is ideally located only 10 km from the international airport of Chania where most visitors choose to arrive.
Suitable for groups of up to 10 people, this villa has three beautiful and elegantly decorated double rooms and two additional single rooms, all of which are en-suite. Colonial architectural features combine with modern amenities throughout the interior and exterior spaces, creating an eclectic aesthetic unlike any other in the area.
A dominant architectural element is the white "Penteli" marble, famous since antiquity, which was used to build the Acropolis. The outdoor patio and balconies invite you to admire the beautiful surroundings from another angle. Upon arrival, you are greeted by a paved, tree-lined driveway that leads to the villa.
A modern private pool and green lawns offer spectacular views of the surrounding citrus groves and the Cretan coastline. The well-tended and fragrant garden, with immaculate palms, cypresses, oleanders and over 100 olive trees, which produce our own organic olive oil, surrounds the villa, elevating your senses. A scenery that will surely make you want to explore Crete. Our personalised services and private concierge are there to guide you during your stay in Crete with activities that will help you make the best of your holidays.
The garden is a pleasure all year round; in winter, admire the first flowers; in spring, the smell of thyme and oregano perfumes the air. The villa is protected by a high fence hidden by plants, has a 140 square meter swimming pool with its own bar, 10 sun loungers with umbrellas, charcoal barbecue, fully equipped outdoor kitchen with stove and refrigerator, outdoor shower and toilet and a large dining table. A ping-pong table completes its various facilities. At the entrance of the villa, there is a large parking space that can accommodate all types of vehicles and also a tennis court.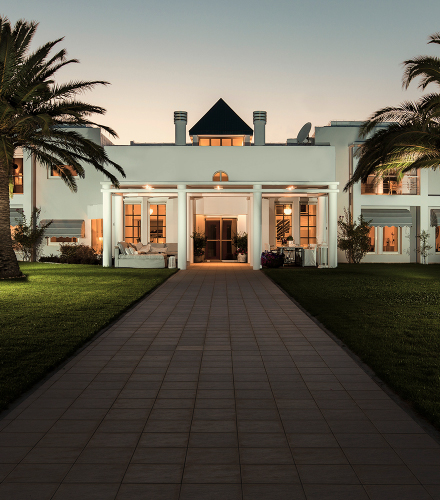 Interior of Casa Scordilli
First floor
A large open space living room composed of elegant and modern armchairs and sofas, as well as a fireplace and various places dedicated for dining all with a view of the garden and the pool. A kitchen made of high-quality materials, adjacent to the living room, fully equipped with both large appliances (four burner stove, oven, refrigerator, freezer, dishwasher …) and small appliances (microwave oven, espresso and filter coffee machine, ice maker, toaster, kettle, blender, …). Young children are not forgotten with a highchair at their disposal. A large separate office area, with a desk, a library, two sofas, a television, a balcony, and a sitting area, overlooking the garden and the sea. The villa and the surrounding gardens have a high-speed internet connection, ideal for a working stay in Crete.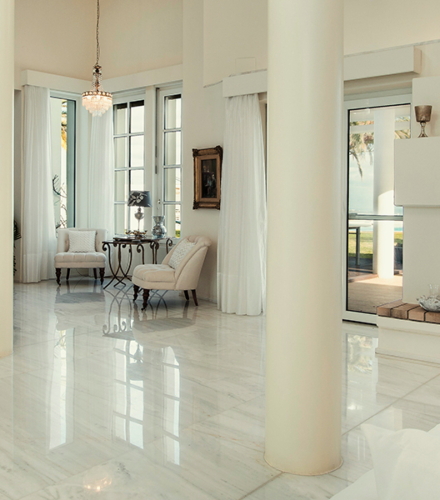 Interior
Bedrooms
Two bedrooms, one with a queen size bed and the other with two single beds are located on the first floor. They both have their own private bathroom, with a walk-in shower, HDTV with Netflix and various accessories (hair dryer, bathrobes, slippers and safe).
An elegant staircase leads to the first floor, which has three bedrooms:
The master bedroom has a king-size bed and a private marble bathroom with a bathtub, HDTV with Netflix, hairdryer, bathrobes, slippers, safe and a balcony overlooking the garden and pool.
The second room has a king-size bed and a spacious en-suite bathroom with bathtub, plus HDTV with Netflix, hairdryer, bathrobes, slippers, safe and a balcony with garden and pool views.
The third room is furnished with two single beds and a private bathroom with a walk-in shower, HDTV with Netflix, hair dryer, bathrobes, slippers, safe and a balcony overlooking the garden and pool.
All rooms have a garden view and their own air conditioning system.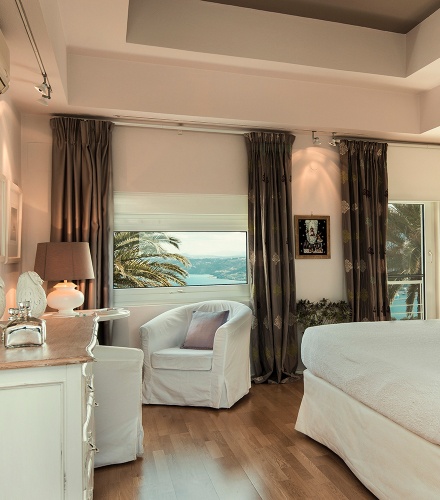 Services on
 Request
Various services are offered at the villa such as shopping before your arrival, daily cleaning (except on Sundays), change of towels and linen every two days, a welcome basket with traditional products, maintenance of the pool and garden, provision of baby bed, highchair and olive oil directly from the garden.
Other services can be added such as personalized meal suggestions and reservations in local restaurants, the organization of visits and excursions on the island, the arrival of gym teachers, yoga, pilates, …, the setting up of massage, the reservation of a chef at home or simply the delivery of Cretan specialties.
For more information about our luxury services accessible during your stay in Crete, read all about our personalised services and private concierge that will give you a good overview of all what is available for your comfort.
You want to see more luxury villas in Crete available for renting during your family holidays in Greece? Check our other luxury villas like, Elia Royale, Villa Elements or the Grove Villa.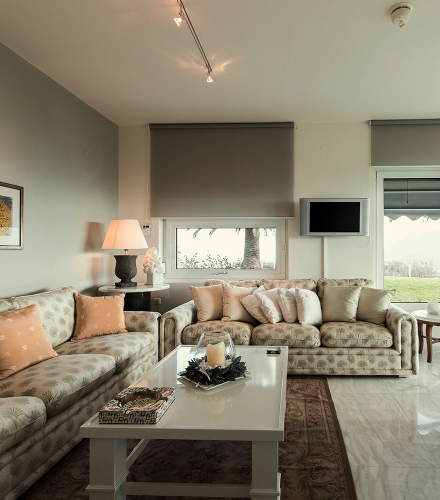 General
Facilities
Free Wi-Fi inside and outside the house

Large office space

Televisions with Netflix in all rooms

Air conditioning & heating in all rooms

Fitted closets

Hair dryer, bathrobes & slippers in each room

Fully equipped kitchen

Nespresso machine & filter

Bath towels and pool towels

Personal safe in each room

Tennis court
Prices
For booking
Price on request

For more information do not hesitate to contact us.
Concerning the booking requests, don't hesitate to call or send us an email, everything is done on measure and we will be more than happy to advice and help you.
I'm interested
Contact Us