Luxury villa description
The luxury villa in Crete
Villa Elia Royal offers top of the line amenities and luxury facilities in a very private and secure environment.
The villa is situated in one of the most spectacular locations in Greece and enjoys a panoramic view, mainly of the picturesque town of Chania and its landmark, the renovated lighthouse of the old Venetian port, but also of the blue Aegean Sea and the famous white mountains of Crete, usually covered with snow from November to the end of May. This makes Villa Elia Royal a wonderful place to visit all year round.
And a great base camp to plan excursions all around Crete and visit the island with our Lifestyle Packages that provide you already organized activities. Read more to gather information about our Adventure, Culture, Gourmet, Remote Work and Wellness packs that will help you make the most of your holidays in Greece.
The house presents a modern architectural design in perfect harmony with its garden and the surrounding landscape. Indoor and outdoor living transcend harmoniously, making it suitable for all seasons throughout the year.Villa Elia Royal is ideal for a vacation stay, a meeting of any kind, a birthday celebration or even a small-scale wedding.
The property can accommodate 10 to 12 people. There are two bedrooms on the upper first floor, one bedroom on the first floor and two bedrooms on the lower first floor.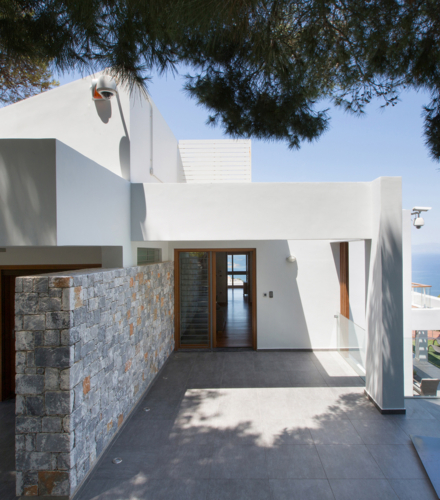 Interiors
A modern architectural design
On the upper first floor, the master bedroom consists of a private sitting area, a sleeping area with a king size bed, an en-suite bathroom with a private heated pool, a dressing room and a private office area. The second bedroom on this level has two comfortable single beds and a private bathroom with its own jacuzzi tub. It is ideal for two adults or the children in the family.
On the first floor level is a small separate studio consisting of a sleeping area with a queen-size bed, an en-suite bathroom and a private living room with direct access to the pool area. It can accommodate two additional people if needed with the use of a large sofa bed. Two separate living areas, the dining room and kitchen, are also on this level.
On the lower first floor, there are two additional bedrooms, both with queen beds and en-suite bathrooms, and another spacious multi-purpose living room for our guests. All of them overlook the garden and have a panoramic view of the old town and the sea at the same time.
Further down, on the same floor, you will find the fully equipped gym and spa area with a Turkish steam bath, Scandinavian sauna and massage area, all overlooking the garden.
In a separate and intimate section on the same level, there is also a small studio with its own entrance, totally separate and self-contained, which can accommodate 2-3 people and can accommodate, by request only, our clients' support staff or additional guests. It consists of a bedroom with an en-suite bathroom and a living area with an adequately equipped kitchenette.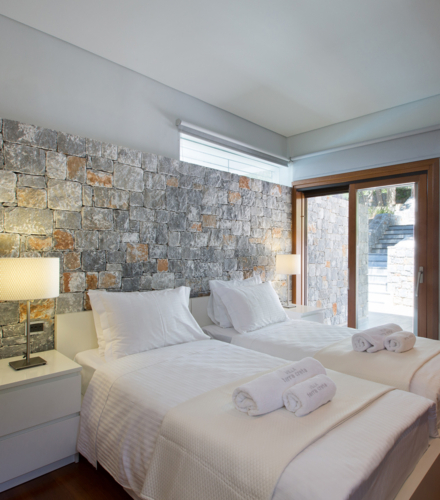 Outside
Unforgettable sunsets
The sunshine in this part of the world averages about 300 days a year, so the environmentally purified, heated infinity pool, pool bar, and surrounding shaded and unshaded living areas encourage our guests to spend most of their day outside where they can enjoy a refreshing dip in the pool, relax on the comfortable loungers, enjoy meals and drinks on the barbecue or in the wood-burning oven, and also enjoy unforgettable sunsets overlooking the landscape of their choice.
Spend your precious free time in the way that best suits your mood.  A fully equipped gym for physical exercise, a spa with a sauna and a steam bath are at your disposal. Relax and ask us for a massage session. Spend time in our spacious lower level lounge watching a movie of your choice, reading a book or surfing the internet, playing cards, chess, backgammon or other board games. A fully functioning kitchen is there for the cooking enthusiast. Villa Elia Royal offers you these and many other possibilities.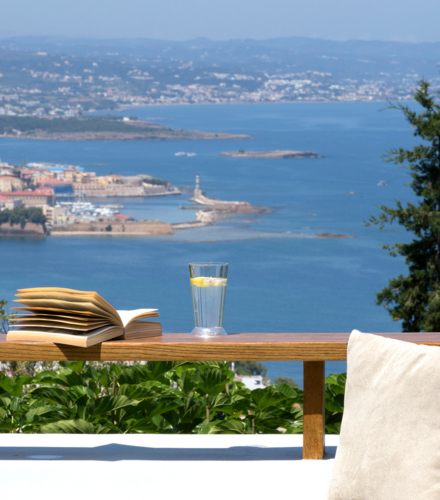 General
Facilities
Satellite TV / home cinema

Sound system

Gymnasium

Spa and massage area

Heated pool

Deckchairs, umbrellas

Wi-Fi

Garage

Bathroom products

Air conditioning

Hair dryer

Charcoal and gas BBQ

Mosquito nets

Washing machine

Heating

Playground
The area
The beautiful beaches of Tersanas, Kalathas and Stavros are just a few minutes away from the villa and all have nice fish restaurants and beach bars. Stavros is a beautiful cove with a small harbor where the Oscar winning movie "Zorba the Greek" was filmed.
The area is perfect for relaxing and has many monasteries and caves waiting to be explored in the mountain range that stretches along the peninsula. Nearby you will find many supermarkets, restaurants and bars offering local and international cuisine, as well as horseback riding, sailing and scuba diving. Surrounded by unique and unspoiled nature, Villa Andrae is the ideal place to relax or a starting point for daily excursions. Our Lifestyle Packages can be the best way for you to discover Crete, relax and explore Chania's restaurants, bars, and wellness services. 

Chania
The amazing prefecture of Chania offers you more than just the opportunity to relax under the Greek sun. With a very rich and extraordinary history and cultural heritage, you will find in Chania a great variety of monuments of exceptional cultural interest that are worth visiting during your stay. Monuments from the Byzantine period, the Venetian period, the Ottoman period as well as from the modern history are to be seen. Museums such as the Nautical Museum of Crete, the Archaeological Museum of Chania, the House of El. Venizelos, the war museum of Chania will help you explore the rich history of this blessed island.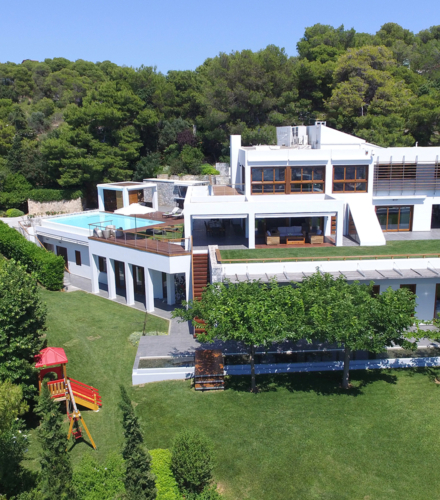 Private concierge services on

Request
General: Airport transfers, cook, babysitting, bar service, boat rental, butler, car rental, driver, security, waiter/waitress.
Amenities: Wine on arrival
Spa and Beauty: Body waxing, facials, hair styling, makeup, manicure and pedicure, massage.
Fitness and sports: Personal training, Pilates, swimming lessons, water sports, yoga, guide for mountain hiking, climbing, vineyard tours, paragliding.
On request for children: baby cots, sleeping cart, portable baby bed, potty, baby walker, chairs and tables.
For more information, read about our personalised services and private concierge and get a better overview of what we can do for your comfort and peace of mind during your stay in Crete.
You want to see more luxury villas in Crete available for renting during your family holidays in Greece? Check our other luxury villas like, Villa Gardenia, Villa Kyma or the Grove Villa.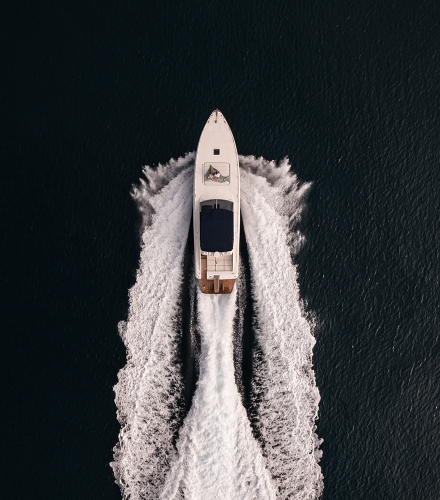 Prices
For booking
High Season

JUNE, JULY, AUGUST and SEPTEMBER
Price for 7 nights

HT

18 579,72 €

TVA

13 %

TTC

21 356 €
Concerning the booking requests, don't hesitate to call or send us an email, everything is done on measure and we will be more than happy to advice and help you.
Services included / Security deposit: Security deposit is 500€, daily cleaning except Sunday and pool heating is 1800€ per week.
Μ.Η.Τ.Ε : 1042Κ10003210701
I'm interested
Contact Us