News
Travel Tips and Practical Information for Visiting Crete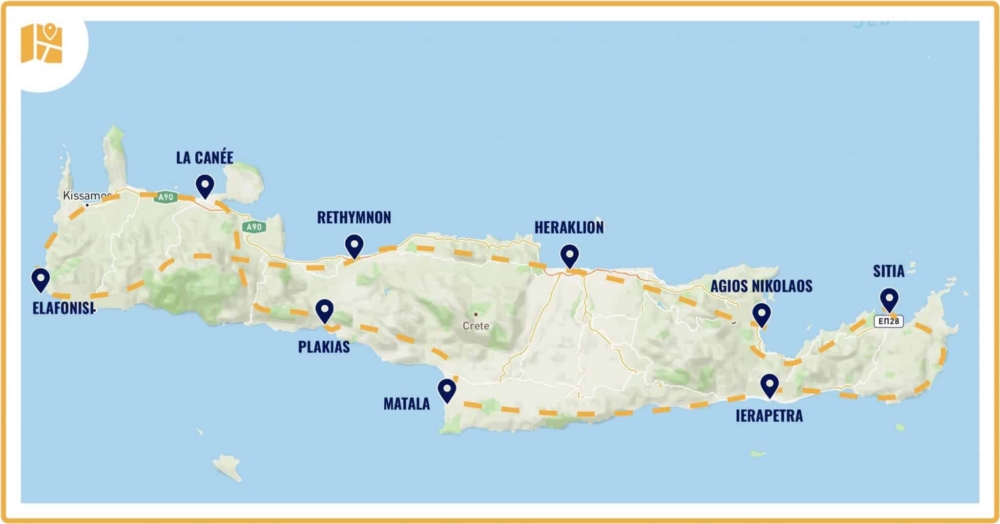 Welcome to our travel guide and practical information for exploring the magnificent island of Crete. Located in the heart of the Mediterranean, Crete is renowned for its natural beauty, rich history, and unique culture (as you may have discovered in our previous publications). Whether you're a lover of idyllic beaches, a history enthusiast, or a fan of delicious Mediterranean cuisine, Crete has something to captivate you. In this article, we will provide you with valuable tips for planning your trip, essential information about entry requirements, the best times to visit, transportation options on the island, recommended accommodations, and much more.
Entry requirements for Crete and the best time to visit: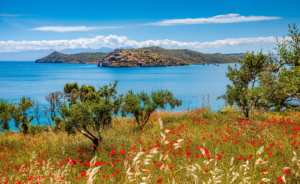 Before flying to Crete, make sure you have the necessary documents. If you are a citizen of the European Union, a valid ID card is sufficient. For travelers from other countries, a valid passport is required. Check the specific requirements for your country of origin and ensure compliance with the current rules.Crete enjoys a Mediterranean climate, with hot and dry summers and mild winters. The best time to visit depends on your preferences. The months of June to September offer high temperatures, ideal for enjoying the beaches and water activities, but they are also very crowded. If you prefer to avoid the tourist crowds, the months of May, September, and October are also pleasant with milder temperatures. November and December often bring pleasant surprises with mild weather and comfortable temperatures for exploring the island.
Transportation to and within Crete: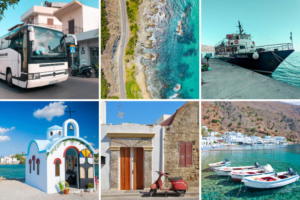 Crete has several international airports, including Heraklion International Airport and Chania International Airport. You can book direct flights from many European cities. Once on the island, you have various options for transportation: Renting a car is the most convenient way to explore Crete. There are numerous car rental agencies at the major airports and cities. Having a car gives you the freedom to visit remote areas and discover the island at your own pace. Taxis are available on the island, and you can easily find them at airports, towns, and tourist areas. Make sure to agree on a fare with the driver before getting in. Local buses are a budget-friendly option for traveling between cities and villages in Crete. The bus network covers many areas, but frequency may be lower in more remote regions. Timetables and routes can be found at bus stations or online. If you prefer the convenience of private transfers, you can arrange for private transportation services during your stay in Crete. R&L Consultancy offers private transfer services to make your travel experience more seamless.
Accommodation, Language, and Currency in Crete: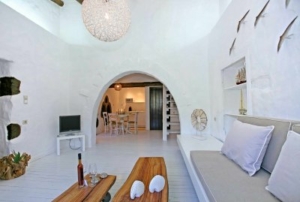 Crete offers a wide range of accommodation options to suit all budgets. Large hotel resorts provide luxury amenities and pools, while small family-run guesthouses offer a more authentic experience. Major cities like Heraklion, Chania, and Rethymno also offer charming hotels in historic buildings. You can also choose to stay in a traditional Cretan village. For a personalized experience in a luxury villa, feel free to submit your inquiry on our website through our contact form. We are available to assist you in finding upscale accommodations and accompanying services.
The official language in Crete is Greek. While many locals also speak English, it can be helpful to learn a few basic words and expressions in Greek to interact with the local people. Cretans are known for their warm hospitality, and making the effort to speak a few words of Greek can help you establish even closer connections with the local community.
The currency used in Crete (and in Greece in general) is the Euro (EUR). Credit cards are widely accepted in hotels, restaurants, and tourist shops, but it is advised to always have some cash on hand, especially for small expenses and local establishments.
Health and Safety in Crete: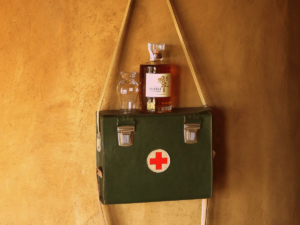 Before your trip to Crete, check the health and safety recommendations for your country of origin. Make sure your vaccinations are up to date and consider purchasing travel insurance that covers medical care abroad. Generally, Crete is considered a safe destination, but it is always advisable to take normal safety precautions and follow local guidelines. Whether in cities or countryside, the crime rate is very low, and it is not uncommon for someone to return your forgotten phone or wallet if you leave it behind on a table! In villages, as long as you respect the area, the locals will be warm and welcoming. If you encounter a gate blocking your path, you can open it to pass through if the path continues, but remember to close it behind you. When it comes to healthcare, major Cretan cities such as Heraklion, Chania, and Rethymno are well-equipped with hospitals.
Cuisine, Local Specialties, and Must-Visit Places in Crete: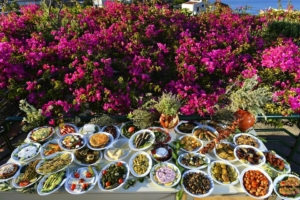 Crete is renowned for its delicious Mediterranean cuisine. Don't miss out on tasting traditional dishes such as dakos (dried bread topped with tomatoes, feta cheese, and olive oil), souvlaki (grilled meat skewers), tzatziki (garlic and cucumber yogurt dip), and arakas (green pea stew). Explore local taverns to discover regional specialties and fresh seafood. An upcoming article will detail some of the must-try local specialties.
Crete is full of sites and attractions to explore. Make sure to visit the Palace of Knossos, the cradle of Minoan civilization, the historic Arkadi Monastery, the breathtaking Samaria Gorge, and the stunning beaches of Balos and Elafonisi, among the most beautiful in the world. Don't forget to venture into charming mountain villages and explore the wine regions for an authentic Cretan experience. We are at your disposal to guide you during your stay through our personalized concierge service, which offers tailor-made programs based on your expectations.
By following these travel tips and practical information, you will be well-prepared for your trip to Crete. This beautiful and diverse island offers the perfect combination of spectacular beaches, fascinating history, delicious cuisine, and warm Cretan hospitality. Take the time to explore the hidden treasures of the island, interact with the locals, and immerse yourself in Cretan culture. Crete promises an unforgettable experience that will stay with you forever.
To learn more about Cretan traditions and the island's rich heritage.
Additionally, to learn more about RL Consultancy and our luxury villa rental offers.
Or alternatively, to get in touch.