Description
Relaxing and luxurious vacation!
Villa Dione is a 7 bedroom luxury villa located in the area of Akrotiri, near the town of Chania.
This beautiful property has a private ecological and chlorine-free 82 m² pool, extensive outdoor areas and an organic garden where guests can eat vegetables. The villa has well-equipped interior spaces with a range of facilities for a relaxing and luxurious vacation!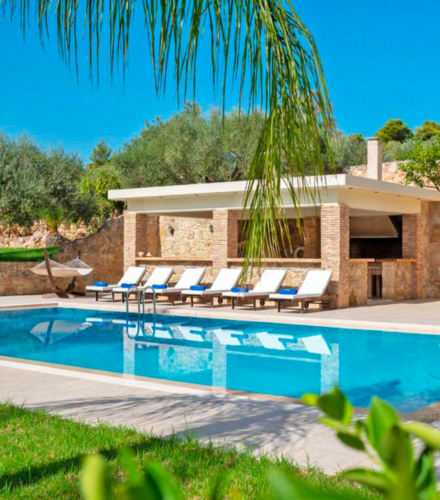 Interiors
The villa
Villa Dione is a 3-story house.
The first floor consists of an open plan area with a living room, dining room and fully equipped kitchen, a second living room, a master bedroom with an en-suite double bed and a bathroom with shower, a double bedroom, a twin bedroom and another bathroom with shower.
On the second floor there is a double bedroom en suite.
On the second floor there are 3 more bedrooms, all with double beds and each bedroom has its own private bathroom.
All rooms are equipped with air conditioning, plasma screen TVs and spacious wardrobes.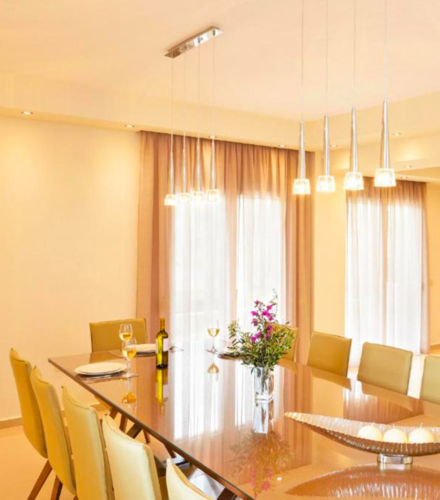 Outside
A beautiful garden
The villa has a beautiful garden of 2000 m² with lawn, flowers, plants, exotic palms and rock gardens. Amongst all this, there are local trees and an herb garden, an organic vineyard, and an organic garden with vegetables all available for guests to eat and taste!
Villa Dione has a huge (82 sqm) ecological, chlorine-free, salt water private pool with lounge chairs, umbrella and hammock ideal for an outdoor nap. Outside you will also find a barbecue area with a grill and a wood-burning oven where you can prepare an outdoor meal. The house has several outdoor dining areas and lounges where you can relax and enjoy the serenity of the surroundings.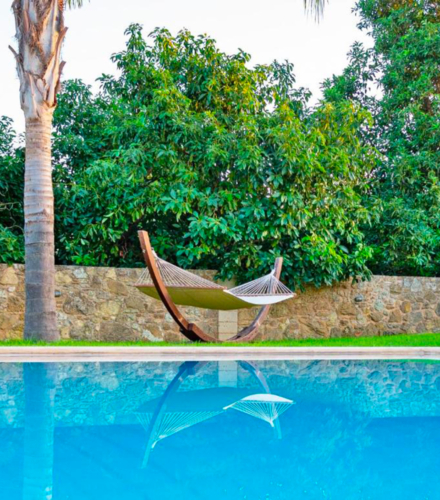 General
Facilities
Private swimming pool (82 m²) with salt water, without chlorine.

Deckchairs, parasol and hammock

Barbecue and wood oven

Outdoor dining room

Private parking

Bath towels, pool towels

Free WiFi

Satellite TV

Washing machine

Hair dryer

Air conditioning

Heating

Ironing board & iron

Fridge / Freezer

Oven

Cooktop

Microwaves

Dishwasher

Kettle

Coffee maker

Toaster

Dishes and utensils

hi-fi system

First aid kit
Thea area
Chania
The amazing prefecture of Chania offers you more than just the opportunity to relax under the Greek sun. With a very rich and extraordinary history and cultural heritage, you will find in Chania a great variety of monuments of exceptional cultural interest that are worth visiting during your stay. Monuments from the Byzantine period, the Venetian period, the Ottoman period as well as from the modern history are to be seen. Museums such as the Nautical Museum of Crete, the Archaeological Museum of Chania, the House of El. Venizelos, the war museum of Chania will help you explore the rich history of this blessed island.
Popular for its lively nightlife and cosmopolitan lifestyle, Chania is considered a prime vacation destination for tourists from around the world.
The city of Chania is the heart of the island, all major events take place here and some of the most popular beaches as well as the most amazing restaurants, taverns, bars and cafes give this amazing city a different atmosphere. Chania is sure to enchant you no matter what type of vacation you prefer. Feel the local hospitality at every step of your journey in a place that will offer you the most amazing beaches with exotic waters like Elafonissi and Balos to the most amazing beaches in the world.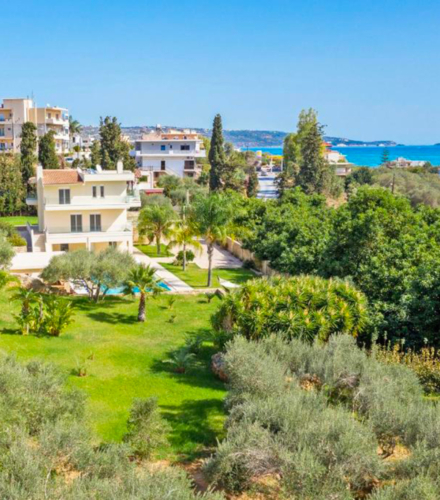 Prices
Book now
Mid Season

APRIL and MAY
Price for 7 nights

EXCL.

5 720 €

VAT

24 %

VAT INCL.

7 092,80 €

Mid Season

JUNE and OCTOBER
Price for 7 nights

EXCL.

7 260 €

VAT

24 %

VAT INCL.

9 002,40 €

High Season

JULY and SEPTEMBER
Price for 7 nights

EXCL.

8 360 €

VAT

24 %

VAT INCL.

10 366,40 €

Summer

AUGUST
Price for 7 nights

EXCL.

9 515 €

VAT

24 %

VAT INCL.

11 798,60 €
To book, don't hesitate to call us or send us an email concerning booking requests, everything is done on measure and we will be more than happy to advice and help you.

Services included / Security deposit: The security deposit is 700€ and there is 1 mid-week cleaning.
Cancellations: 30 day cancellation policy for full refund prior to check-in.

MITE : 1092554